Rex History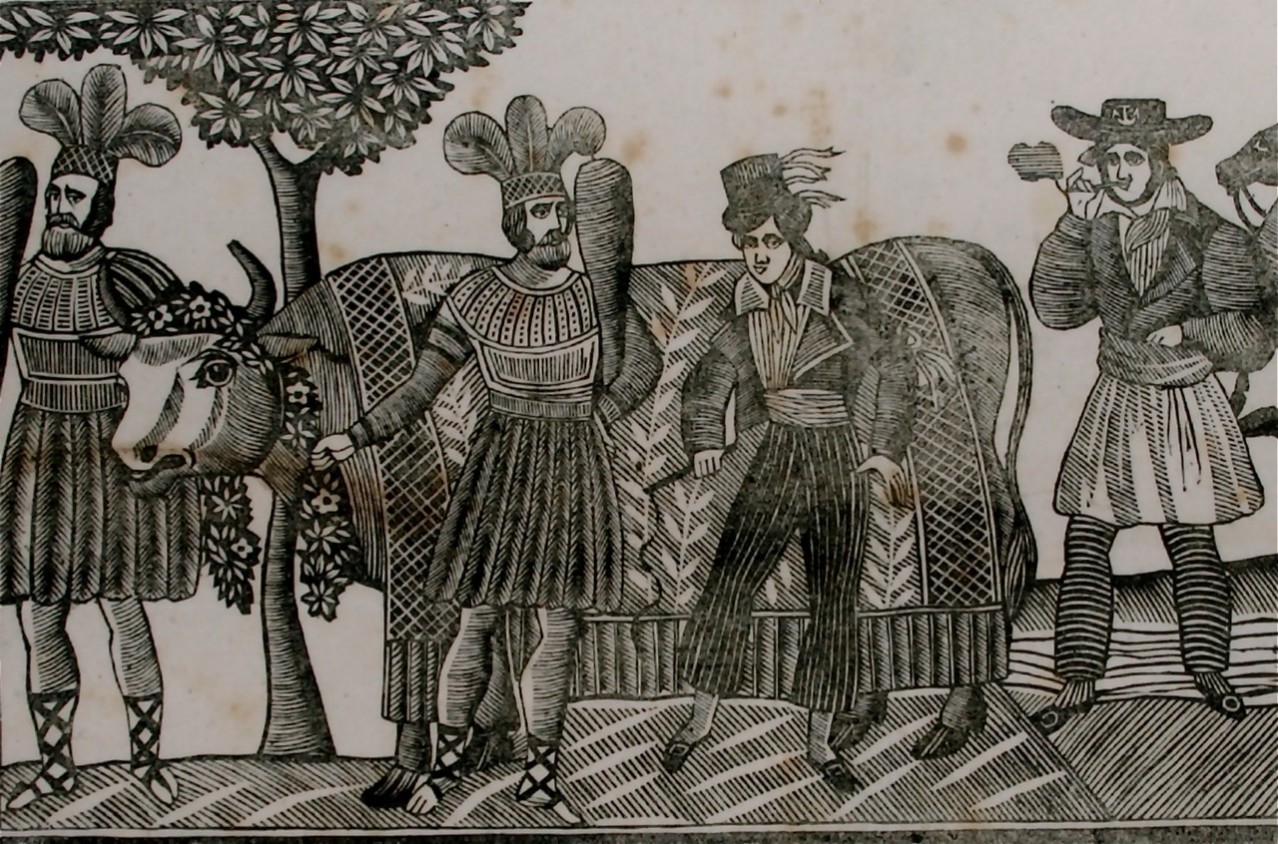 History
Carnival has ancient roots and has been celebrated in many cultures for many centuries. How did New Orleans become almost synonymous with Carnival, or Mardi Gras, and how did Rex become the King of the New Orleans Carnival? The histories of Carnival, Rex and this old and unique American city weave together in fascinating ways.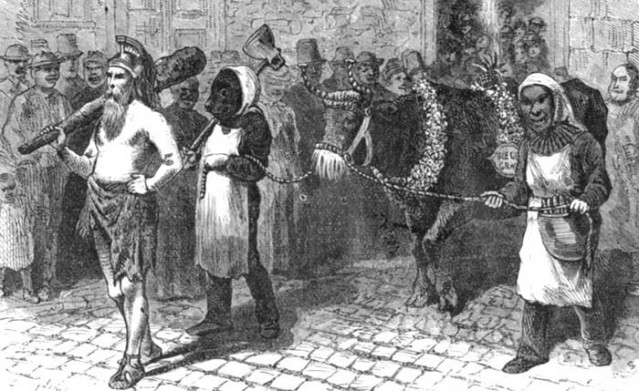 Carnival
Celebrations preceding Lent have ancient origins, and those who settled in New Orleans brought with them the symbols and celebrations of Carnival (from the Latin carnelevamen, "farewell to flesh"). These customs and symbols, primarily French, included the "Boeuf Gras" and masked balls and street parades.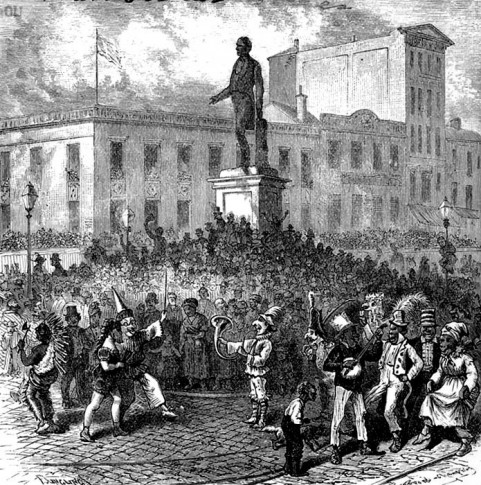 Carnival in Early New Orleans
Such Carnival celebrations were common in early 19th century New Orleans. Impromptu and haphazard street celebrations and processions, some including decorated wagons or primitive floats, had been part of Mardi Gras in New Orleans since the city's founding. These celebrations often got out of hand, and by the 1850's city authorities were ready to ban them altogether. In 1857 a group of young men founded the Mistick Krewe of Comus, and produced the first themed nighttime parade. Other organizations followed.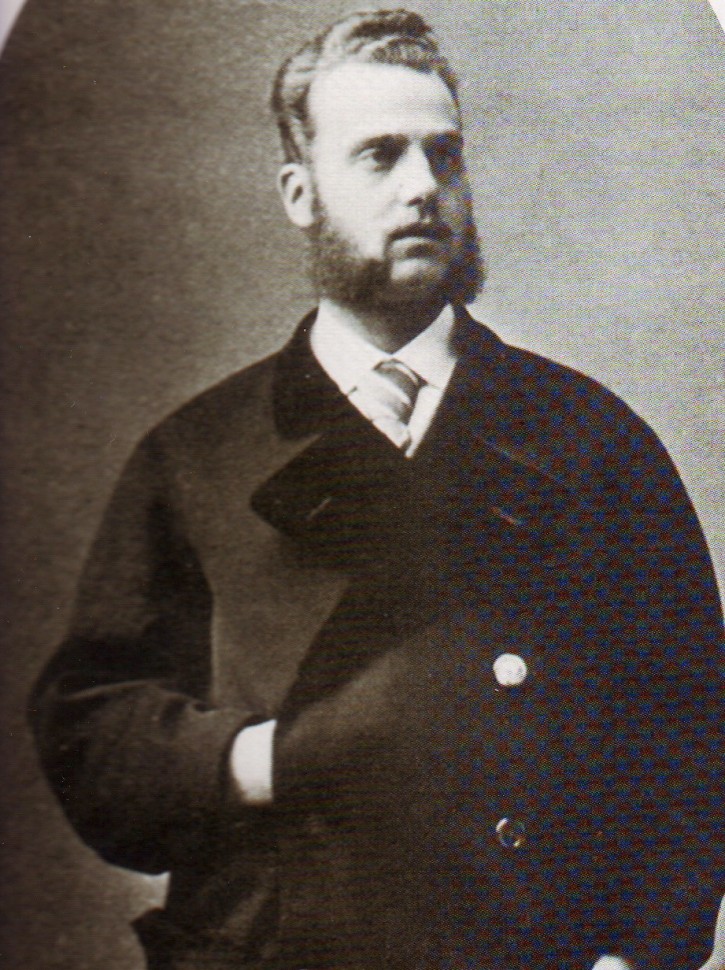 The Birth of Rex
Rex entered the picture in 1872. New Orleans was struggling to recover from the lingering effects of the civil war, and divisions and isolation prevailed. At the same time, many city leaders saw the need to bring some order to the chaotic street parades of Mardi Gras day. The news that Russia's Grand Duke Alexis Romanoff would visit Mardi Gras and New Orleans provided another impetus to add order and brilliance to the day. This portrait shows the Grand Duke as a dashing young man, about the time he made his visit to New Orleans.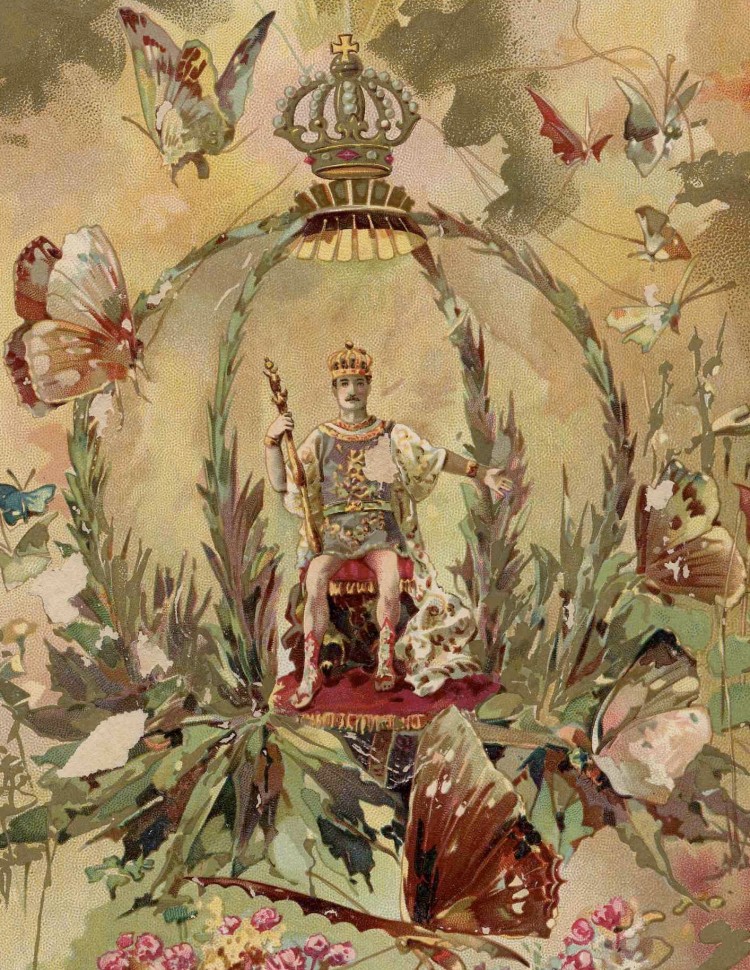 "Pro Bono Publico"
The group of young men who founded the Rex Organization hoped not only to entertain the Grand Duke, but also to create a daytime parade that would be attractive and fun for the citizens of the city and their guests. True to the Rex motto, "Pro Bono Publico—for the public good," they succeeded beyond their hopes. They selected one of their members, Lewis J. Solomon, to be the first Rex, King of Carnival. Before he could begin his reign he had to borrow a crown, scepter, and costume from an actor who happened to be performing in town at the time.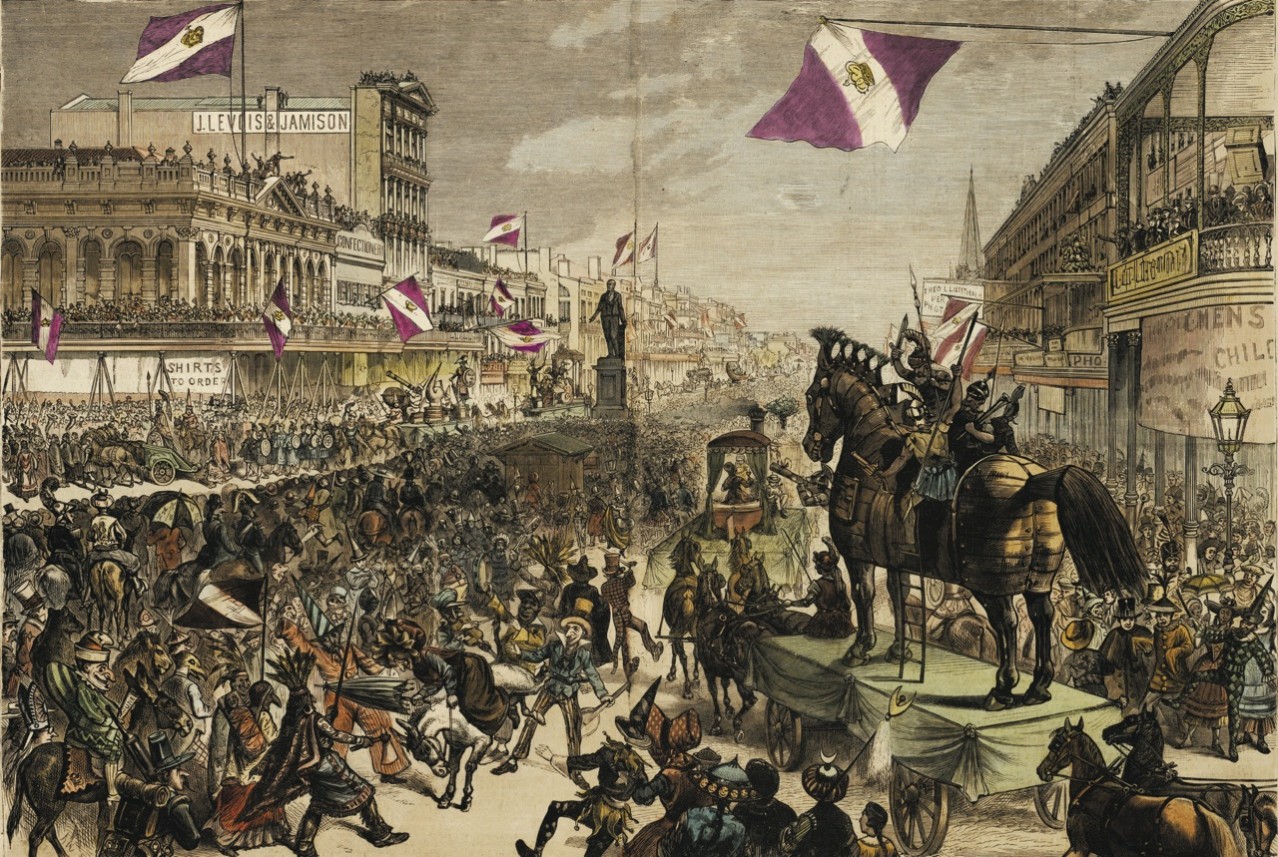 Early Rex Parades
The first Rex Parade bore little resemblance to the Rex Processions of later years. Rex rode a horse, not a float. The parade that followed was made up largely of the informal maskers and marchers who were on the streets anyway. The 1873 Rex Procession was better organized and far more grand, beginning a long tradition of colorful and creative parades illustrating a theme selected from the worlds of literature or mythology.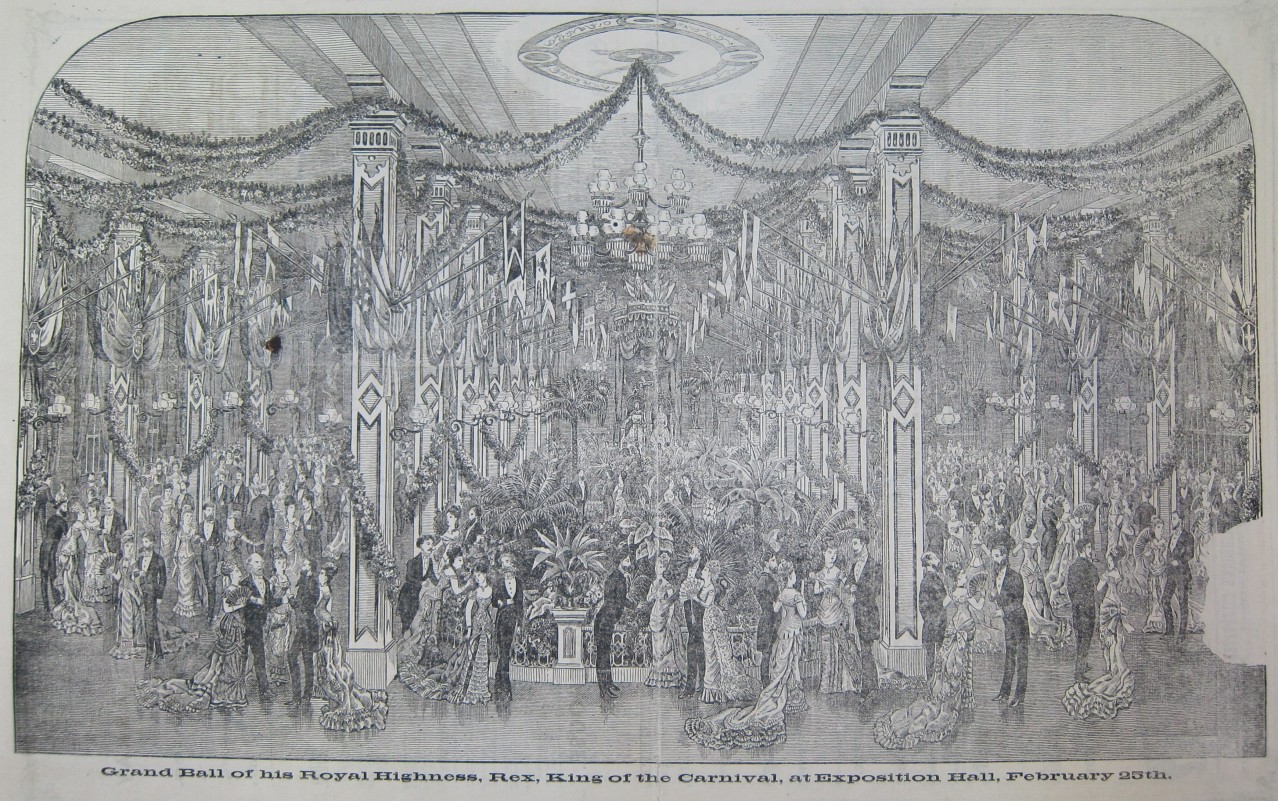 Carnival Balls
In 1873 Rex held its first ball, and selected the first Queen of Carnival. Carnival balls traditionally were formal and very private affairs, with elegant decorations, tableaux presentations, and with dancing limited to the masked and costumed members and their guests.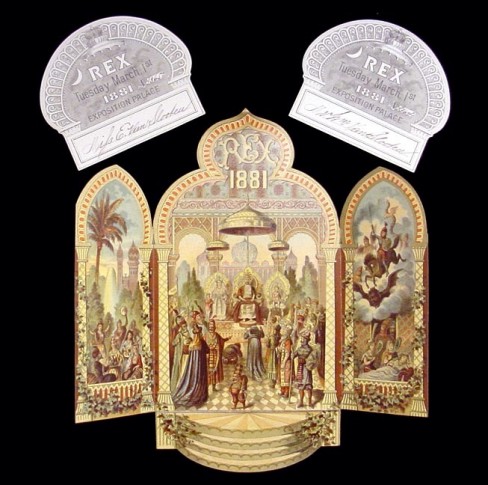 The Rex Ball
The Rex Ball, in keeping with the organization's more public role, was not a masked ball, but rather a formal presentation of Carnival Royalty, followed by grand marches and general dancing. This tradition continues to this day. Elaborate ball invitations, created each year, have become sought-after and valuable remembrances, another tradition the Rex Organization continues today.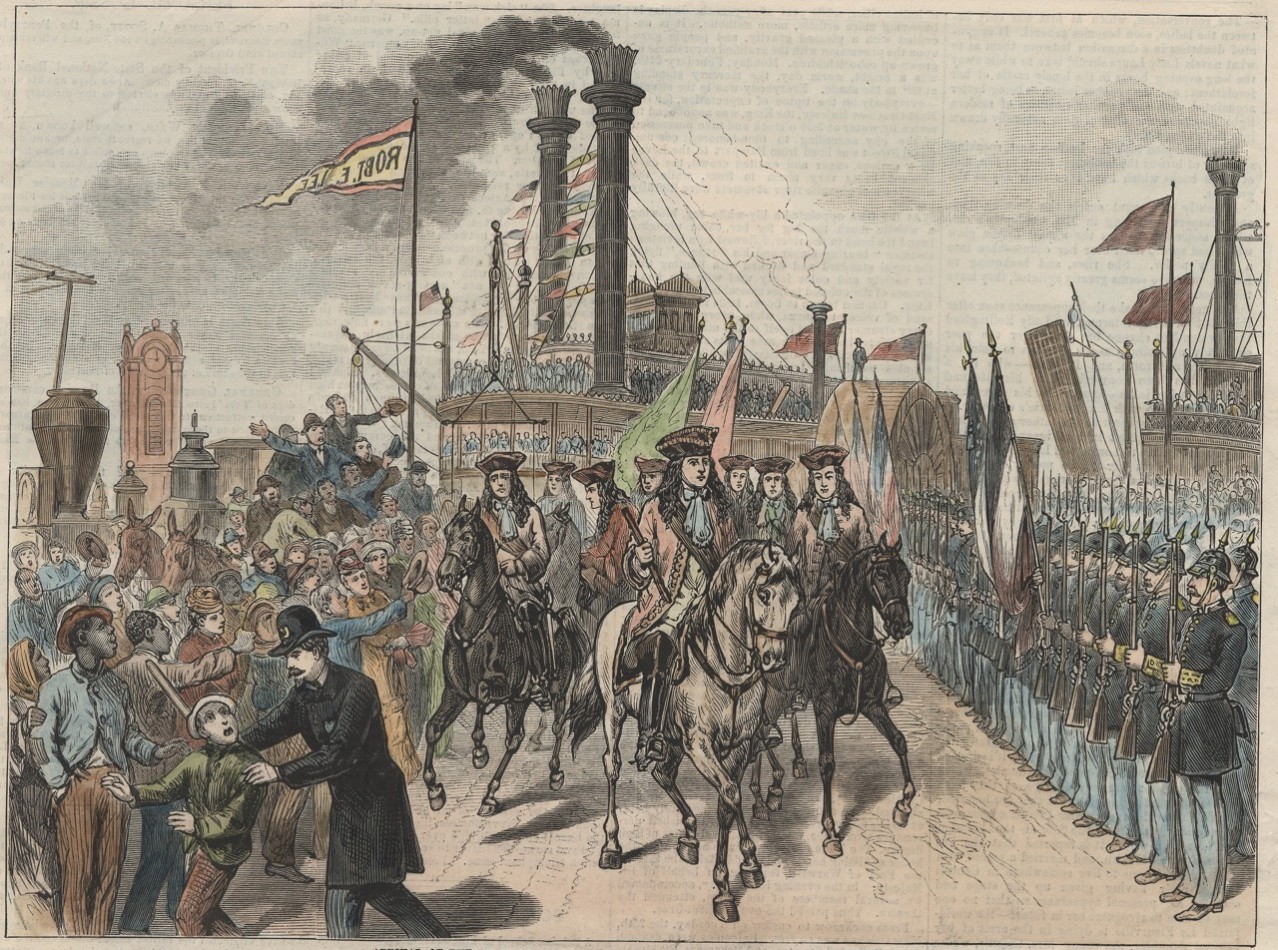 Rex Arrives in New Orleans
Other traditions developed, including Rex's arrival in his Kingdom by boat on the Monday before Mardi Gras. Accompanied by costumed officials, Rex would descend grandly from his royal yacht and join a parade to City Hall. There city leaders surrendered the keys of the city to the new Sovereign of this fanciful and temporary realm.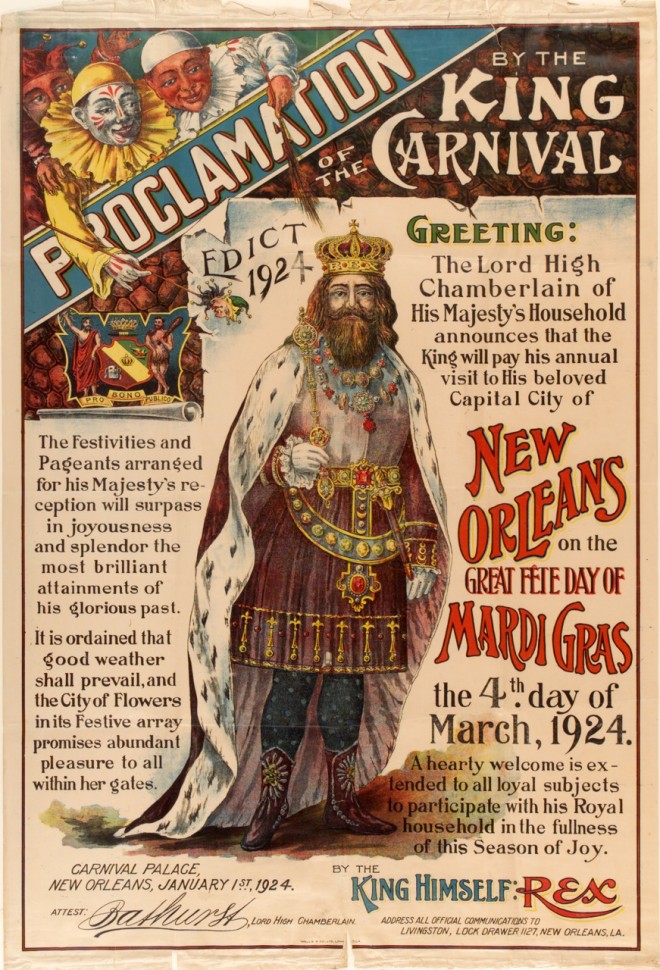 Rex Proclaims Carnival
Rex's reign as "King of Carnival" had begun. The Rex Organization, incorporated as "The School of Design," went to work to achieve the twin goals of presenting a grand daytime procession as the highlight of Mardi Gras day, and to encourage visitors to come to New Orleans to enjoy the celebration. In subsequent years, and to this day, Rex has issued his Official Proclamation of Carnival, and invited his subjects to gather in his "Capital City" to celebrate.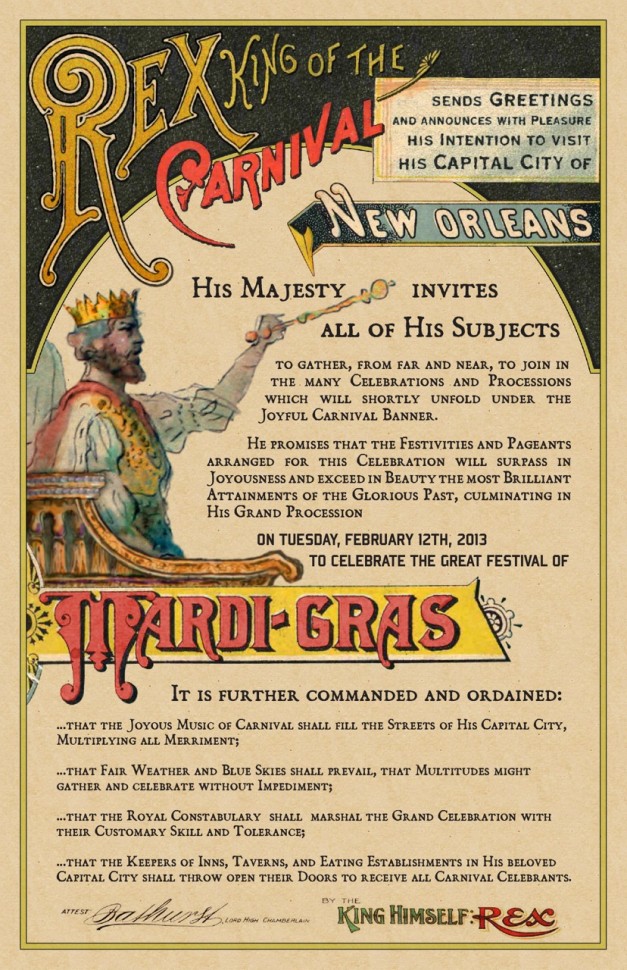 Attracting Visitors
Rex's proclamations and invitations found their way to railroad stations and other public places in faraway cities, and had the desired effect. Mardi Gras in New Orleans helped to heal and strengthen the city almost a century and a half ago, and continues to be a major component of New Orleans' economy. The Rex Organization has provided a modern version of the old edict to be used by tourism officials in their marketing efforts.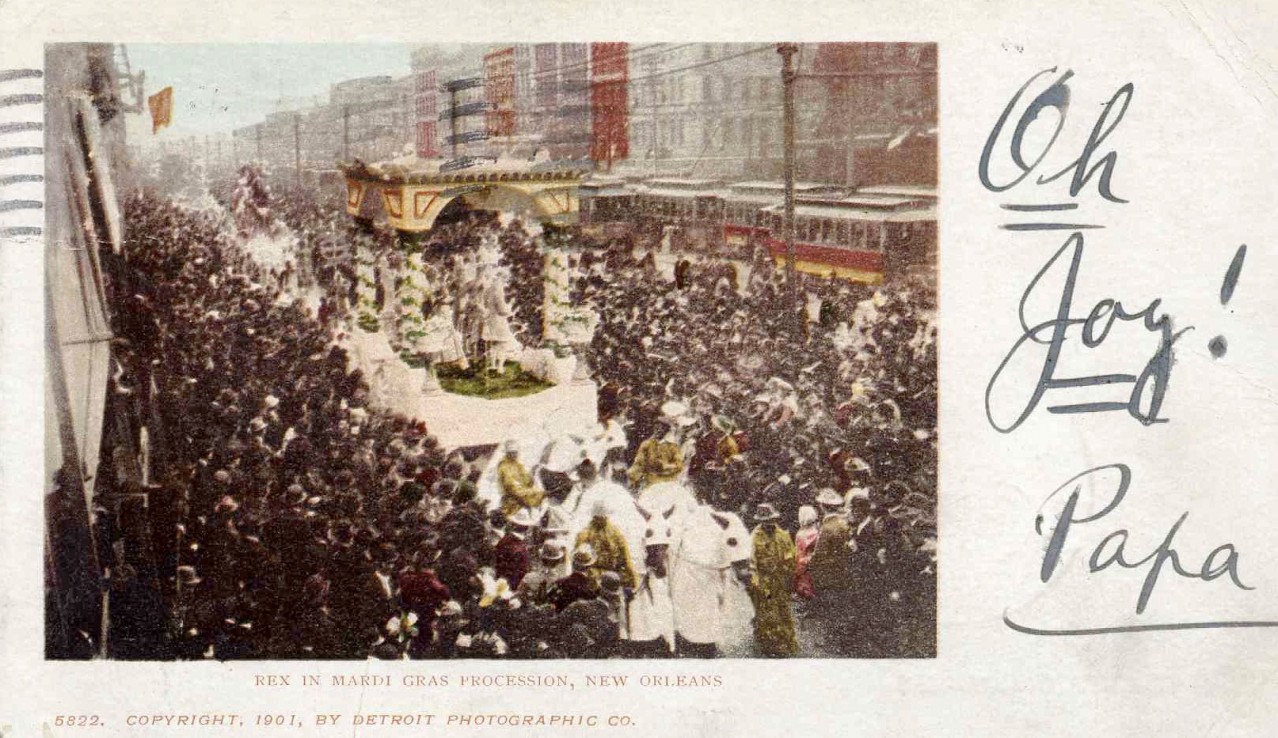 Mardi Gras in New Orleans
Visitors have come to New Orleans and enjoyed Mardi Gras year after year, and many new parading organizations have taken to the streets in a Carnival season that now stretches over two weeks. But the culmination of the celebration is still Mardi Gras day, when Rex climbs onto his float and greets his subjects as his Procession passes through the streets of his kingdom. The visitor who sent this postcard home to New Jersey in 1904 was obviously thrilled!