Rex in the Classroom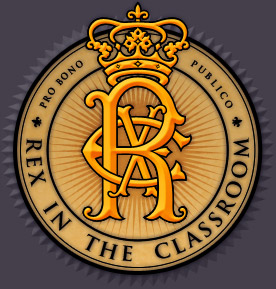 The Rex parade traditionally illustrates a theme rich in references to history, mythology, geography and the arts-a colorful world inviting exploration. Rex in the Classroom was created to encourage and support that exploration by students of every age.
In this area you will find materials describing this year's Rex parade, including parade notes, illustrations, and web links. These materials may be used to support teachers' efforts as they help their students explore the theme and float titles of this year's Rex parade.
Rex, the King of Carnival, first reigned in New Orleans on Mardi Gras day, 1872, and established traditions that have endured for 150 years, including Carnival's colors—purple, green and gold—and its anthem—"If Ever I Cease to Love." Rex founders chose the motto "Pro Bono Publico," and that commitment to service continues to guide the School of Design. The sesquicentennial Rex parade pays tribute to the artistic legacy of the past century and a half.
Parade bulletins are provided for classrooms participating in "Rex in the Classroom."
Developing creative float designs has been a popular Rex in the Classroom activity in past years. This year's theme provides a wonderful opportunity for students to design their own floats using a downloadable PDF worksheet of a Rex float chassis. Student designs that are posted to social media sites should include a link to Rex's account:
Facebook: Rex Parade
Twitter: @RexParade
Instagram: @rexparade
Available "Rex in the Classroom" materials:
For education materials from past years, please visit our Education Archive.