Ludovico F. Feoli will reign as Rex 2023 on Tuesday, February 21, 2023. He is is a political scientist, researcher, and administrator, with a track record of leadership in the philanthropic and civic realms. The 2023 Queen of Carnival is Miss Evaline Finlay Gomila, a University of Virginia student majoring in Computer Science with a minor in Economics. The Queen of Carnival and her court will greet Rex and enjoy the Rex parade from reviewing stands at the Hotel Intercontinental on Mardi Gras day. In the evening Rex and the Queen of Carnival will preside over the Rex Ball at the Sheraton Hotel.
Rex, King of Carnival, 2023 is Ludovico F. Feoli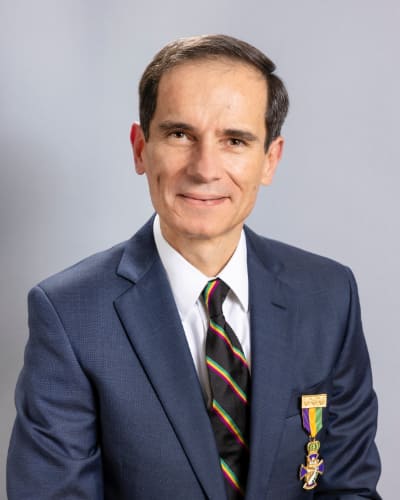 Mr. Feoli serves as Executive Director of the Center for Inter-American Policy and Research at Tulane University, where he is also a Research Professor in Political Science and Latin American Studies. He is the Executive Director of Centro de Investigación y Adiestramiento Político Administrativo (CIAPA), a research center in San Jose, Costa Rica, and co-Chair of the Zemurray Foundation, which he manages. He is also a Senior Fellow at the Johns Hopkins School of Advanced International Studies (SAIS) Foreign Policy Institute in Washington, D.C.
Mr. Feoli earned a B.A. in economics from Claremont McKenna College in 1985, where he was a member of Phi Beta Kappa. He holds a M.A. in Latin American Studies and a PhD in political science, both from Tulane University.
Following graduation from college, Mr. Feoli returned to his native Costa Rica and worked in the private sector. He became involved with a local think tank founded in 1974 under the auspices of Tulane University. This led him to seek graduate degrees at Tulane and, later, to transform the relationship between the two organizations through the creation of the Center for Inter-American Policy and Research (CIPR) at Tulane, which is today a fully endowed research center. Mr. Feoli and his family have lived in New Orleans since the year 2000.
Mr. Feoli's civic leadership in the community is extensive. He currently serves as treasurer of the Audubon Institute and is a member of the President's Council at Tulane University. He also serves on the advisory board of the School of Advanced International Studies at Johns Hopkins University. He is a past board chair of the Bureau of Governmental Research (BGR), a government watchdog, and the Greater New Orleans Foundation, a community foundation for the eleven parishes of greater New Orleans. He was a founding board member and past board chair of PACE (Program of All-Inclusive Care for the Elderly) Greater New Orleans, and he served on the boards of Catholic Charities, the Louisiana Philharmonic Orchestra, and the local chapter of the Posse Foundation. As the co-Chair of the Zemurray Foundation, a private family foundation established in 1951, Mr. Feoli oversees grantmaking to numerous organizations in the fields of education, arts and culture, social services, and the environment, among others.
In his research, Mr. Feoli has focused on different dimensions of governance, democratic representation, poverty and inequality reduction, and the policy impacts of social movements in the extractive sector. He teaches courses in environmental politics, development, and Central American politics.
Mr. Feoli's family has long-standing ties to the Rex Organization. His wife's paternal grandfather, Roger T. Stone, and father, Samuel Z. Stone, were both members of the Rex Organization. His daughter, Ileana M. Feoli, served as a Maid in the Rex Court of 2013.
Feoli is married to the former Stephanie Stone, whose family has long-standing roots in New Orleans. They have two children, Filippo, who is a financial advisor with First Horizon and lives in New Orleans with his wife Liza, and Ileana, a senior public relations manager at WTW in New York City. Both Filippo and Ileana are graduates of Isidore Newman School. Mr. Feoli speaks three languages and is an avid cyclist and runner. He also enjoys hiking, tennis, and hunting. The family dog is a yellow lab named Harry.
The Queen of Carnival, 2023 is Evaline Finlay Gomila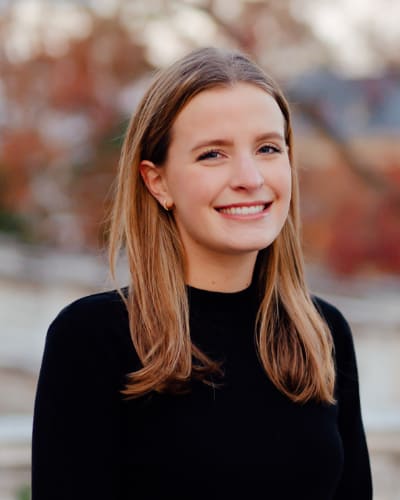 The 2023 Queen of Carnival, Miss Evaline Finlay Gomila, is the daughter of Mr. and Mrs. Moylan Feild Gomila, Jr. Her mother is the former Gwathmey Hampton Finlay of Columbia, South Carolina.
Miss Gomila graduated in 2019 Summa Cum Laude from Groton School in Groton, Massachusetts. She attends the University of Virginia, where she is majoring in Computer Science with a minor in Economics. In the fall of 2021, she worked as an Undergraduate Research Assistant for a Professor in her Major, aiding in reflexive thematic analysis and participating in the writing of a formal research paper.
At UVA, Miss Gomila was elected Treasurer and Education Chair for Kappa Kappa Gamma Sorority. As Education Chair, she was responsible for developing a comprehensive program of six presentations on topics related to Kappa's core educational values for women. She has been on the Dean's List while at UVA. She serves the community as a VISA (Volunteers with International Students, Staff, & Scholars) language consultant volunteer, meeting weekly with English as a Second Language students and staff to help them grow more confident with English, literacy, and digital literacy skills.
At Groton, Miss Gomila was selected as Chapel Prefect and Dorm Prefect and volunteered as a tutor. She was a founding member and Captain of the volleyball team. She also was a member of the track team as a member of the 4x100 meter relay team and other events. She was assistant editor of her school yearbook. She currently serves as a Form Agent for her class at Groton.
Summer work experiences have included interning as a Business Intelligence Summer Associate for the New Orleans Saints and Pelicans. During the pandemic, she had a virtual internship as a Data Science Intern for an Artificial Intelligence firm based in Johannesburg, South Africa. Miss Gomila also worked as a Financial Intern for a financial services firm in New Orleans. She has volunteered for community program projects focused on hunger and disaster recovery. In her free time, Miss Gomila enjoys horseback riding, traveling, baking, walking, boating, reading, and puzzling. She is a lifelong Saints and Pelicans fan.
Miss Gomila's family has strong ties and a deep commitment to the Rex Organization. Her father is one of its longest serving Lieutenants. Her brother, Moylan Feild Gomila III, served as a Duke in the Rex Court of 2022 and her brother, Frank Hampton Gomila, served as a Page in the Rex Court of 2015.