James J. Reiss, III will reign as Rex 2022 on Tuesday, March 1, 2022. He is a highly decorated former Captain in the United States Marine Corp and combat veteran with a track record of leadership in the military, philanthropic, civic, and business realms. The 2022 Queen of Carnival is Miss Elinor Pitot White, a University of Texas student majoring in Public Relations with a minor in Business. The Queen of Carnival and her court will greet Rex and enjoy the Rex parade from reviewing stands at the Hotel Intercontinental on Mardi Gras day. In the evening Rex and the Queen of Carnival will preside over the Rex Ball at the Sheraton Hotel.
Rex, King of Carnival, 2022 is James J. Reiss, III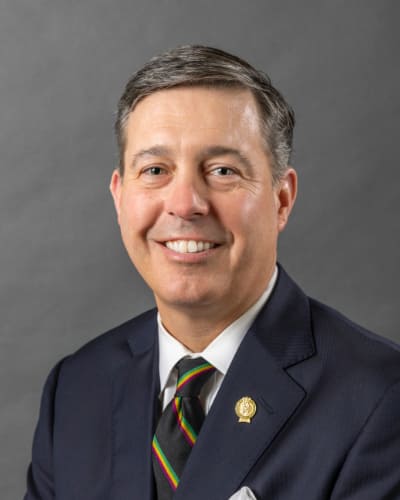 James J. Reiss, III serves as Executive Vice President of First Horizon Advisors, the wealth advisory division of First Horizon Bank. In that capacity, he is the Managing Director for the bank's wealth advisory teams in Louisiana and Texas. Prior to the merger between First Horizon Bank and IBERIABANK, Mr. Reiss was an Executive Vice President of IBERIA Wealth Advisors. Previously, he held senior executive roles at investment firms Johnson Rice and Howard Weil.
He graduated from Metairie Park County Day School and later earned his bachelor's degree in business administration from the University of Mississippi in 1995. Following graduation from Ole Miss, Mr. Reiss attended Marine Corps Officer Candidate School, and became a Naval aviator, piloting AH-1W Supercobra attack helicopters. During his military career, he was awarded numerous ribbons, awards, commendations, and medals, including 6 Air Medals, 2 for individual heroism, and the Distinguished Flying Cross with Combat "V" for heroism while serving with Marine Light Attack Helicopter Squadron 773 in Afghanistan. After 10 years of active service, he left the Marine Corps as a Captain in 2005.
Mr. Reiss' civic leadership in the community is extensive. He currently serves as a member of the board of the Pro Bono Publico Foundation, which was formed by members of the Rex Organization following Hurricane Katrina to financially support our community's public schools and its students. Mr. Reiss also serves on the Executive Committee of the Board of Directors for the New Orleans Police & Justice Foundation.
Previously, Mr. Reiss served on the boards of the Lighthouse Louisiana (formerly Lighthouse for the Blind), Audubon Charter School, the Military Order of Foreign Wars, and was a founding board member of the New Orleans Military & Maritime Academy. He also serves as a member of the Advisory Board for Bastion, an intentional community in the Gentilly neighborhood of New Orleans in which wounded, ill, or injured veterans live alongside retired military and civilian volunteers.
He played a leadership role in philanthropic efforts to develop a new home for New Orleans' Veterans of Foreign Wars Post 8973, which has become the largest OEF/OIF veterans post in the nation. As Chairman of First Horizon Bank's New Orleans Advisory Board, Mr. Reiss is active in philanthropic endeavors positively impacting communities throughout the Greater New Orleans region.
Mr. Reiss holds leadership positions in New Orleans' Carnival celebrations. He is the Co-Chairman of the Mayor's Mardi Gras Advisory Council, and he is a long-serving senior official within the Rex Organization.
The longest-standing connection between Mr. Reiss' family and the Rex Organization is his paternal grandmother, Alice Peak Reiss, who, as Rex's Artistic Director, served as a beloved designer of floats and costumes for the School of Design from 1954 through 1968. Mrs. Reiss graduated from Newcomb College with a focus on art and was a prolific, renowned Carnival artist. Mr. Reiss is proud of his grandmother's personification of Rex's commitment to the arts and education.
His father, James J. Reiss, Jr., served as a Duke in the Rex Court in 1959. He himself served as a Duke in the Rex Court in 1995, and his sister, Lady Catherine Reiss, served as a Maid in 1997. His son, James J. Reiss, IV, served as a Page in the Rex Court in 2019.
Mr. Reiss is married to Erica Ballard Reiss, formerly of Dallas, with whom he has three children: Tatum, a freshman at the University of Arkansas; Brooke, a senior at Isidore Newman School; and James, IV, a freshman at Isidore Newman School. Mr. Reiss enjoys duck hunting throughout southeastern Louisiana and is often joined on hunts by his children.
The Queen of Carnival, 2022 is Elinor Pitot White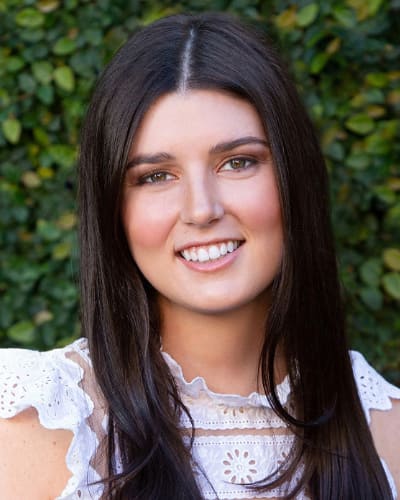 Miss Elinor Pitot White is the daughter of Mr. and Mrs. Michael Bright White. Her mother is the former Virginia Gore Burke of New Orleans.
Miss White graduated from Metairie Park Country Day School in 2018 and attends the University of Texas, where she is in the Moody College of Communications majoring in Public Relations and in the McCombs School of Business minoring in Business. She participated in the University of Texas New York Program, taking classes and working for advertising agency FCB Global during the Summer of 2021.
At UT, Miss White is a member of the Kappa Alpha Theta Sorority and has participated in philanthropic efforts for both CASA of Travis County and for the Texas Thon fundraiser benefiting Children's Miracle Network Hospitals.
At Country Day, Miss White was inducted in the National Honor Society, served as Editor as well as Co-Editor of the Yearbook, and played on the varsity tennis team for four years.
Summer and holiday work experiences have included interning as a teaching assistant at the Bright School for the Deaf and working at C.Collection and Sparkle City Co. for four years, including traveling to Dallas for market. She also visited Bali to hike, surf, and volunteer on a seaweed farm and Thailand to become a PADI-certified expert diver, as well as volunteer in both countries helping students learn English. Other interests include, travel, tennis, snow skiing, water skiing, running, snorkeling, spear fishing, boating, and walking her dogs.
Miss White's Rex ancestry is extensive on both sides of her family, including a number of Kings and Queens of Carnival. Her great-great-uncle, William Mehle, reigned as Rex in 1879. Her great-great-aunt, Sadie Shelby, was a Maid in the 1906 Rex Court. Miss White's great-great-aunt, Elinor Bright Richardson, for whom Miss White is named, reigned as Queen of Carnival in 1920, which is when she met her husband, Edmund Richardson, when he was a Duke in the Rex Court that same year. Her great-grandfather, Edgar Allen Gordon Bright, reigned as Rex in 1956. Her cousin, Elizabeth Burke Landry, reigned as Queen of Carnival in 1980, the same year Miss White's father was a Duke in the Rex Court. Her cousin, Elinor Spicer Bright, reigned as Queen of Carnival in 1983.
Miss White's other family members who were a Duke include both of her grandfathers, Harold Hunter White, Jr. in the 1952 Rex Court and Peter Gibbons Burke in the 1955 Rex Court, and her brother, Michael Bright White, Jr., in the 2016 Rex Court. Her sister, Shelby Jane White, was a Maid in the 2019 Rex Court. Miss White's cousins, Jane White Hunicke and Ella Bright Baldwin, reigned as Queen of Carnival in 2011 and 2012, respectively.