Long before Mardi Gras, and for the first time in memory, the Rex Den opened for a very special group of guests. On a crisp, bright Halloween afternoon the Den swarmed with young teachers enjoying hot dogs, king cake, and tours of the Rex Den filled with nearly completed floats.
Rex volunteers greeted nearly 200 Teach for America Corps Members and led tours of the den, answering questions about the Rex Organization and explaining how floats are created. Visits to the Lieutenants' and King's rooms provided opportunities for these young educators to view displays of Rex history and to learn about the origins of Carnival in New Orleans.
Teach for America Corps Members are graduates of colleges and universities across the country, and have committed to serve at least two years teaching in some of our most challenging schools, not only in New Orleans but also in neighboring parishes. TFA's presence in the Greater New Orleans area represents one of the organization's most substantial national commitments. By next year nearly 500 TFA teachers will be part of the ongoing transformation of public education in the New Orleans region.
These young and energetic teachers have proven very effective in improving the performance of students in their classrooms. Many of them will continue to teach and lead schools well beyond their initial two-year commitment, and many will stay in the communities they have come to serve.
TFA's visit to the Rex Den was intended both to thank these highly motivated young educators and to extend to them a special welcome to our community. For many of them this was a first exposure to Carnival—they began their work in New Orleans only this Fall. Next February many will witness their first Mardi Gras parade, so this was a nice preview.
Rex's President and Captain each welcomed the TFA visitors, and thanked them for the important work they are doing. Pro Bono Publico Foundation Chairman Christian Brown presented a check for $15,000 to TFA leaders, the second such grant awarded by the Foundation. He also announced that individual Rex members had made additional pledges, significantly increasing Rex support for Teach for America.
The Pro Bono Publico Foundation has focused its grants on education, especially on charter schools and supporting organizations working to assure that every child has access to an excellent school. Teach for America, its leadership, and its dedicated Corps Members are a key part of the progress we are making to achieve that goal. Rex applauds their work!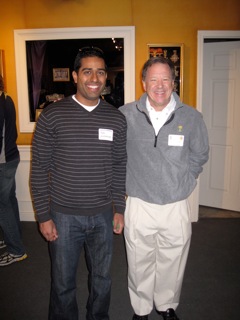 Tommy Westfeldt with TFA Corps Member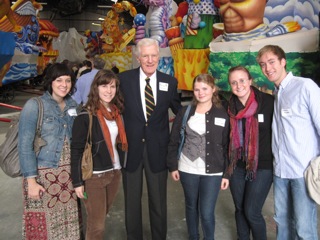 Brooke Duncan with TFA guests. Brooke serves on the board supporting two charter schools--the Charter School for Science and Math and the recently launched Science and Math Academy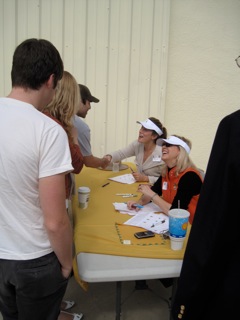 Elise Kiser and Kia Brown welcome TFA Corps Members to the Rex Den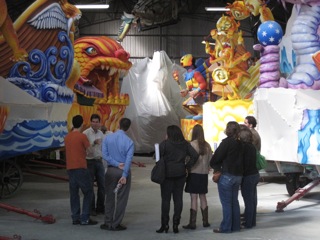 Christy Brown leads a group of TFA Corps Members through the Rex den