Merchandise
We are not able to sell Rex items directly to the public. Rex Proclamations, Parade Bulletins, and some other Rex items can be obtained from other sources.
---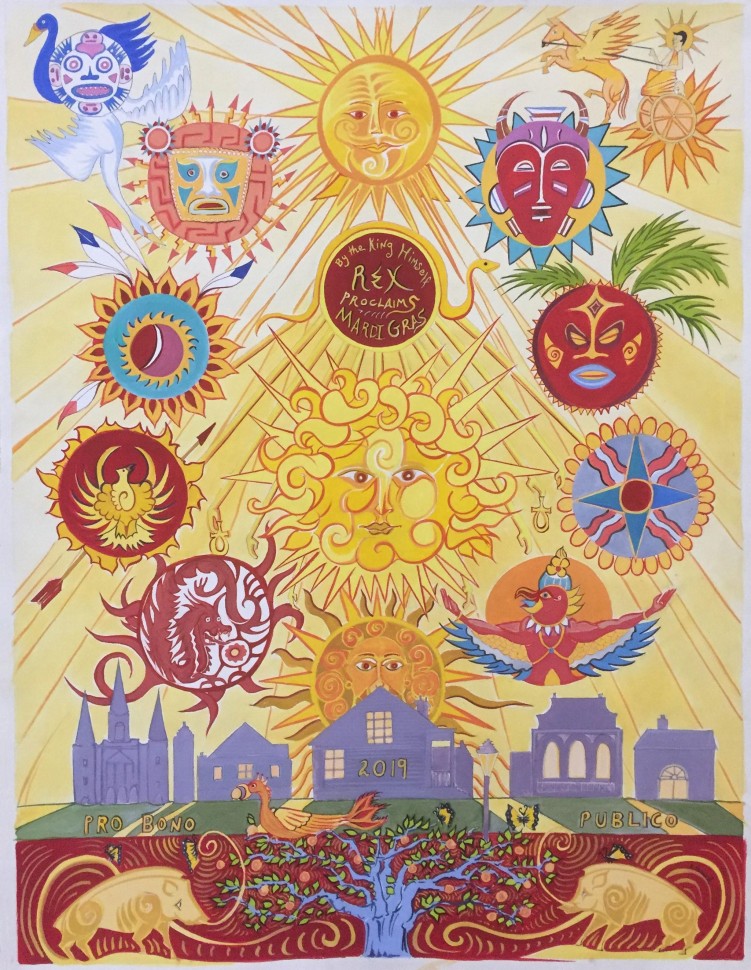 2019 Rex Proclamation
Each year an artist selected by the Rex Organization creates an original Rex Proclamation art print highlighting the year's theme or one of the iconic images of Rex and Carnival. These sought-after collectors' items may be signed by the artist and by the King of Carnival, and always carry the notation "Rex Proclaims Carnival."
The 2019 Rex Proclamation, the work of noted New Orleans artist Alex Beard, illuminates "Visions of the Sun," the theme of the Rex procession. Beautiful images of deities associate with the sun in ancient cultures are arrayed over the outline of a New Orleans neighborhood.
2019 Rex Parade Bulletin
Revived in 2002 from an earlier era, the Rex Bulletin presents the entire colorful Rex float procession of each year's elaborately themed parade. In the past, local newspapers published the bulletin along with a detailed description of the parade theme and each float—these old bulletins have become important resources in documenting early parades. The 2019 Rex Parade Bulletin presents the designs of the floats illustrating this year's theme, "Visions of the Sun."
Bulletins are available for online purchase to the public from an external website.