Merchandise
We are not able to sell Rex items directly to the public. Rex Proclamations, Parade Bulletins, and some other Rex items can be obtained from other sources.
---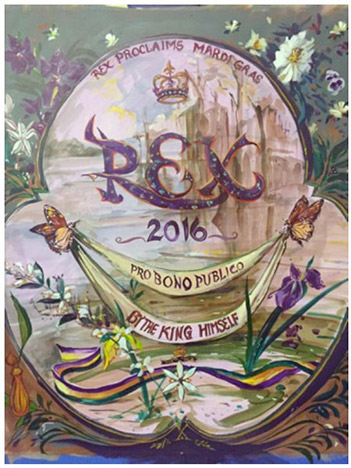 2016 Rex Proclamation
Inspired by the 2016 theme, "Royal Gardens•Horti Regis," talented artist Tucker Fitz-Hugh's beautiful 2015 Rex Proclamation evokes an ethereal image of His Majesty Rex's favorite garden, Louisiana's wetlands.
2016 Rex Parade Bulletin
During the "Golden Age" of Carnival, parade bulletins were published to give the public a glimpse of parade themes and float designs. This tradition was renewed in 2002, and the 2016 bulletin beautifully depicts the theme "Royal Gardens•Horti Regis" with original art and elegant designs for each float in the 2016 Rex Procession.
Bulletins are available for online purchase to the public from an external website.